September 01, 2013 at 11:38 PM
The costs associated with buying a property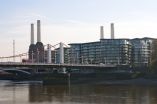 Deposit
Mortgage providers will require you to pay a deposit as a percentage of the purchase price of your new home. The bigger your deposit the better your mortgage rates will be, typically a 5% deposit would be the minimum requirement but much better rates will be available if you can provide 15% +

Mortgage Arrangement Fees
Some mortgage providers will also require an arrangement fee, these vary from product to product but typically can be up to £2,000

Mortgage Valuation Fees
Mortgage providers will require an independent valuation report to be conducted on the property to safeguard their exposure. This will be another cost to the buyer and will vary depending on the size of property, budget £500-£1,000 for this cost.

Buildings Insurance
Most mortgage providers will insist as a condition of the mortgage that buildings insurance is in place to cover your new property from the date of purchase.

Survey
In addition to the mortgage valuation, you may also want to get a surveyor to check for any structural defects in the property. There are different levels of survey available to a purchaser, a homebuyers report will typically cost £500+ depending on the size of property, or you may wish to get a full structural survey done usually £750+

Legal Fees
Again this will vary depending on the size and value of the property. For conveyancing, local land searches and disbursements you should budget at least £1,500

Stamp Duty Land Tax
SDLT is payable to the UK government on completion of a property transaction (freehold and leasehold interests) and charged as percentage of the purchase price. Purchase price up to £125,000 = No SDLT payable, Over £125,000 up to £250,000 = 1%, Over £250,000 up to £500,000 = 3%, Over £500,000 up to £1,000,000 = 4%, Over £1,000,000 up to £2,000,000 = 5%, Over £2,000,000 = 7%, Over £2,000,000 (purchased by a corporate body) = 15%

Annual Tax on Enveloped Dwellings
As of April 2013 a new annual tax has been introduced on residential property owned by corporate entities that are valued in excess of £2,000,000. See the following HMRC link for more info http://www.hmrc.gov.uk/ated/basics.htm

Moving costs
If you need help moving your home contents there are a plenty of removal companies offering this service, get a few quotes and make sure they are fully insured to cover any damages.

Renovation works
Does your new home need a lick of paint? Will you do this yourself or get a professional in? Perhaps you need a full program of refurbishment works, if so get recommendations and quotes from 3 or 4 contractors.

.......and lets not forget the wise ones of you that instruct a Princedale as your property search agent, our fees are 1.5% of the property purchase price, but we'll do all the hard work for you, save you precious time in your search and negotiate effectively when it comes to securing the deal.